The 2020 Commencement has been rescheduled for October 3, 2020!
Attention August 2019, December 2019, May 2020, and August 2020 Graduates!
Your big day is almost here. Get your caps ready. We're excited to let you know what's next.
Last Semester Preparations
Before registering for your last semester at Montreat College, be sure that you've checked with your advisor to be certain that you've signed up for all of your finishing class requirements. You'll want to have:
Completed all general education and major requirements
120 total hours (minimum)
33 hours at the 300 level or above
18 hours completed at Montreat in your major (if you transferred to Montreat)
All competencies completed
Documentation of any exceptions granted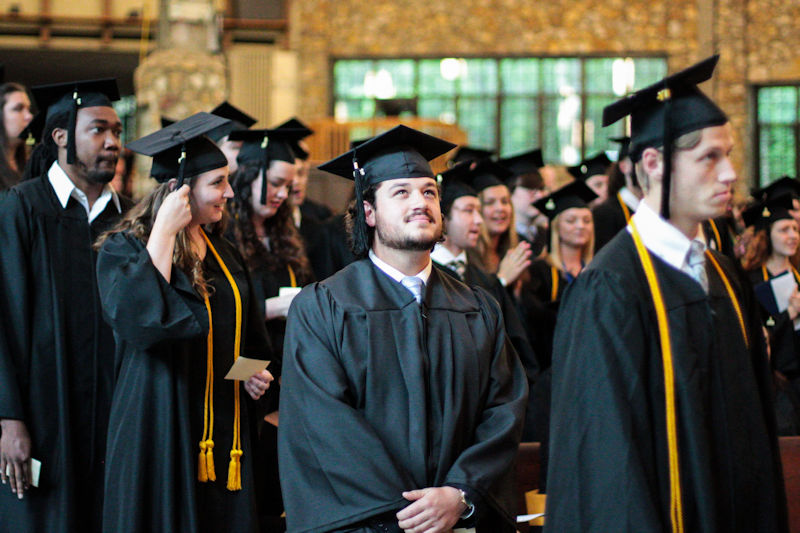 Graduation Application
Please remember these deadlines:
If you plan to complete your degree requirements before May 31st, apply by March 1st
If you plan to complete your degree requirements before August 31st, apply by June 1st
If you plan to complete your degree requirements before December 31st, apply by October 1st
If you plan to complete your degree requirements and participate in the 2020 commencement ceremony on October 3rd, you can reserve your place by completing the graduation application no later than June 1, 2020. If your graduation requirements are complete and your degree was posted in August 2019 or December 2019, you can still participate in the October 3rd Commencement ceremony. Just let us know of your plans by completing the Commencement RSVP form no later than September 1, 2020. You also need to order your cap and gown from Herff Jones by the same deadline.
Commencement Ceremonies 
Montreat College's graduation ceremony is held at 2:00 p.m. in lower Anderson Auditorium in Montreat, NC. The Commencement will take place on October 3, 2020. All graduates participating in the commencement ceremony must wear the appropriate gown, cap and tassel for their degree. Students should not wear jeans or tennis shoes to this ceremony. To order your graduation attire, contact Herff Jones no later than September 1, or the College Bookstore at 828.669.8012, ext 3602
Graduation Materials
Once you have applied for graduation, the Registrar's Office will review your final graduation audit. Be sure to let them know of changes in your degree plan. Here is the information you need to prepare for the Commencement ceremony:
Before Graduation
Complete your online Exit Survey (This will be sent directly to you through your Montreat e-mail).
Reserve your place at the Commencement ceremony no later than September 1.
Make arrangements to purchase your cap and gown directly through Herff Jones no later than September 1, or by contacting Carly Lee, Bookstore and Document Center Manager, at carly.lee@montreat.edu.
Make sure that your $60 graduation fee is paid via your student account. The fee is due whether you choose to participate in the commencement ceremony or not.
Pay any outstanding balances or fines. Contact Student Financial Services: 800-545-4656.
Return all library books, departmental equipment, and keys.
If you will have any remaining degree requirements after August 31, you must complete a Petition to Walk in Commencement Form.
If you have taken out a loan, you must complete exit counseling. This is a federal regulation.
• For Federal Loans (Stafford or Direct), visit studentloans.gov.  Click on the green button to log in.
• You will need your FAFSA ID, SSN, driver's license, and the contact information
for your references.
• If you have taken out a Perkins Loan, the Student Financial Services Office will e-mail you specific
instructions on how to complete exit counseling.
• If you have multiple lenders and are interested in consolidating your loans, visit
studentloans.gov.
Commencement Ceremony Instructions
Please dress appropriately. Black cap, tassel, and gown appropriate to your degree must be worn. No jeans or running shoes.
Arrive on time, between 12:00 p.m. and 12:30 p.m., on Saturday, October 3, 2020 to check-in at
the front desk of Anderson Auditorium and receive your name card.
Students receiving honors will be given cords at check-in.

Bachelor degree candidates who complete a minimum of 60 credits at Montreat College and meet the following minimum cumulative grade point average requirements will be awarded Latin honors:

3.50 – 3.69 Cum Laude
3.70 – 3.84 Magna Cum Laude
3.85 – 4.00 Summa Cum Laude

Bachelor degree candidates who complete 45-59.99 credits at Montreat College with a minimum GPA of 3.75 will graduate "With Distinction".
Associate degree candidates who complete at least 45 credits at Montreat College with a minimum GPA of 3.75 will graduate With Honors

Veterans will be honored with red, white and blue cords.
All graduates will meet in Upper Anderson for instructions and line-up at 12:45 p.m. (There is no rehearsal prior to commencement.)
Ceremony starts promptly at 2:00 p.m. and will last approximately two hours.
Anderson Auditorium will be open to guests at 12:30 p.m. No tickets are required. The Auditorium fills up quickly, so guests are urged to arrive early and turn off their cell phones.
The bookstore will be open on commencement day from 12:00 to 5:00 p.m.
Driving/Parking Directions
The ceremony will take place in Anderson Auditorium, 302 Lookout Road, Montreat, NC 28757.
A map to the campus can be found here.
Please park in designated areas only.
There will be designated handicapped parking.
Montreat police will be on hand to offer assistance and directions.
Photography
A professional photographer will photograph graduates with the president as they receive their diploma. Photos are available for purchase from Hannah Belle Photography.
Additional Information
Health Care Enrollment Flyer for Students