Montreat College's Outdoor Education program combines elements of adventure education and environmental education into one unique program of study.
Our program emphasizes outdoor skills, leadership training, and environmental knowledge, giving students the training and experience necessary to teach adventure activities, team building, and environmental awareness from a biblical worldview.
Montreat College's Outdoor Education program gives students the skills, knowledge, and training necessary to facilitate personal growth and interpret the natural environment.
Montreat College is located in North Carolina's Blue Ridge Mountains, an internationally renowned destination for outdoor adventure and education.
Montreat College's Outdoor Education Department was named "Organization of the Year" by the Wilderness Education Association (WEA) in 2013.
Montreat College's Outdoor Education Department offers complementary minors in leadership and adventure-based counseling.
World-Class Facilities
Montreat College's Team and Leadership Center (TLC) boasts a world class high ropes course, climbing tower, low initiatives course, and outdoor pavilion.
OE 180 Discovery Wilderness Expedition
An 18-22- day wilderness expedition that may include backpacking, rock climbing, whitewater canoeing, camping, route finding, a solo experience, and a personal challenge event. Through these experiences, students focus on individual and group development in four core areas: stewardship, discipleship, community, and leadership. Emphasis is on spiritual growth and Christian fellowship. A reflective paper will be required. Discovery is a physically challenging course but possible for participants in average physical condition.
OE 210 Challenge Course Facilitation
This course will focus on the facilitation of challenge course elements including fixed and portable low initiatives, fixed high ropes courses, and climbing towers. The course is intended to provide an overview of the challenge course industry and necessary skills for the facilitation of challenge course programming. Emphasis will be placed on group processing skills, technical equipment and skills, and management/assessment techniques. This course will follow industry standards as set forth by the Association for Challenge Course Technology (ACCT). This course is not an ACCT or Montreat College Team and Leadership Center facilitator certification, training or testing, but should provide students with a foundation to move forward to become certified should they wish to do so on their own.
OE 300 Survey of Adventure-Based Counseling
This course is intended to provide an overview of the theoretical underpinnings, conceptual foundations, and necessary skills related to the field of Adventure-Based Counseling. Topics will include history, theories, ethical issues, populations, faith considerations, and specific skills & techniques related to Experiential Therapy, particularly in an adventure context. Students will be encouraged to participate in personal reflection and processing related to class content. The course will include at least one day-long site visit and one day-long Adventure-Based Counseling experience.
Environmental Educator
Outdoor Program Manager
Outdoor and Expedition Trip Leader
Director for Outdoor and Environmental groups
National or State Park Ranger
Camp Director or Administrator
Wilderness Skills Instructor
Counselor for At-risk-youth
Challenge Course Facilitator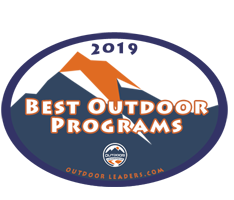 Wetzel-Hagaman Awards
Description: The Wetzel-Hagaman Awards were established at Montreat College to prepare the next generation of Christian outdoor leaders and educators. Penny Hagaman and Jake Wetzel invested their lives in many Montreat students over the years. The Outdoor Education Department established this award in their honor (see below).
Amount: Awards are for $2000 each ($1000 each semester) for incoming majors in Outdoor Education and Outdoor Ministry. Awards are only for the freshman/first year of study at Montreat College.
Number of awards: Up to ten awards will be given.
Application criteria: For details about the application process contact Dottie Shuman, Professor of Outdoor Education (dottie.shuman@montreat.edu). An application form and essay are required for each applicant.
Due date: The deadline for all applications and essays is March 1, 2019.
Environmental Education and Interpretation
This concentration focuses on developing the professional Environmental Educator and Environmental Interpreter. The two main foci of this concentration include increasing environmental knowledge and mastering educational and interpretive techniques. The concentration includes all the requirements to be certified as a NC Environmental Educator and an Environmental Interpreter through the National Association of Interpretation.
Outdoor Leadership and Adventure Education
This concentration focuses on developing the aspiring Outdoor Leader/Adventure Educator with essential skills and practical experience. Students will be prepared to make sound decisions and demonstrate effective risk management in a variety of outdoor environments
Special Emphasis
Students may have a specialized interest other than the two concentrations described. Students may transfer a set of courses from other institutions, study abroad and certification programs (e.g., Au Sable Institute, Summit Adventure), or complete courses in other departments at Montreat College to fulfill the requirements for this concentration. The special emphasis concentration will be designed by the student in conjunction with the student's faculty advisor. The advisor and the Outdoor Education faculty must approve a formal proposal of the concentration emphasis by the end of the student's sophomore year.
Request More Information
We would love to tell you more!