The Perseverance of Christian Higher Education
An Interview with CCCU President Shirley Hoogstra
Reflection: For our readers who are not familiar with the Council for Christian Colleges & Universities (CCCU), can you tell us a bit about what the CCCU is and what you do as an organization?
Shirley Hoogstra: The Council for Christian Colleges & Universities is a higher education association of more than 180 Christian institutions around the world. Our mission is to advance the cause of Christ-centered higher education and to help our institutions transform lives by faithfully relating scholarship and service to biblical truth. To fulfill this mission and meet our institutions' needs, we provide unique services for administrators, faculty, students, and friends of Christian higher education in three areas of strategic focus.
The first is public advocacy. As an effective and respected advocate for Christ-centered higher education both in the U.S. and around the world, we highlight the contributions of our institutions to the common good and advocate for the right of each CCCU institution to practice its sincerely held religious beliefs and to participate fully in the public square without penalty.
The second is professional development. We host numerous conferences for administrators to develop their skills, build connections with peer leaders, and equip them in their work to provide a holistic Christ-centered educational experience for their students. We also invest in faculty development and scholarship through institutes and grants intended to help faculty excel in their scholarship and integrate faith into their discipline.
Third is experiential education. We offer nine unique off-campus, faith-integrated study programs in three U.S. cities and six foreign countries that expand students' academic educational experience, provide unique internship opportunities, and develop and deepen their spiritual lives.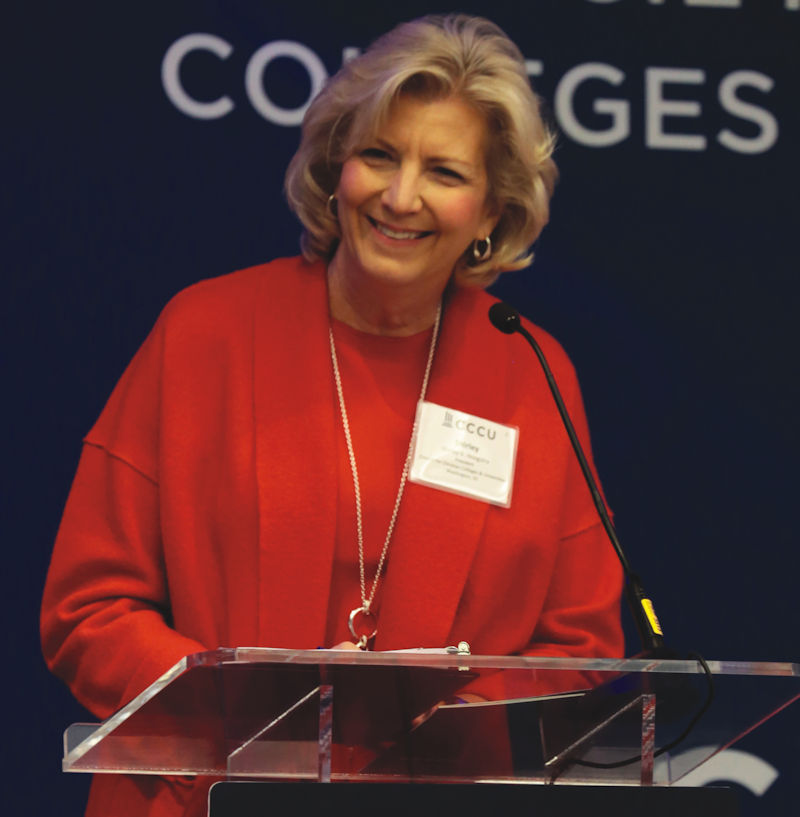 The past couple of decades have been an increasingly difficult time for small, private, liberal arts colleges. What challenges have you seen in the marketplace for smaller colleges? What conditions do you think have led to these challenges?
Smaller colleges face more competition, as there are new ways of delivering education that fit the new market for the way people live and work today, such as fully online models, cohort models, and other non-traditional approaches to the college experience. Smaller colleges also have a changing customer—no longer are students fitting neatly into the 18-22-yearold age range, nor are they singularly fitting into a single demographic type. There are changing technology platforms and changing beliefs regarding the value of certain types of education. None of these are inherently bad nor unexpected—they reflect the changes we are seeing in the U.S. overall—but together they can feel at times overwhelming or threatening because of the rapid rate of change.

"One of Christian higher education's greatest strengths is its holistic approach to shaping and educating students."

In addition to these challenges, Christian colleges and universities face an additional set of challenges. What have you seen as the biggest challenges for Christian higher education in recent years? What do you see as the biggest challenges in the near future? What resources does the CCCU provide for colleges looking to navigate this difficult terrain?
One of the greatest challenges to higher education broadly is sustainability in regards to cost and affordability for students. This is a great concern to Christian higher education as well, but Christian colleges and universities also face the challenge of government regulations potentially affecting their ability to live out their religious missions.
We help campuses respond to these challenges by providing a superb government relations office that engages policymakers directly; by offering training and professional development through conferences so campus leaders can keep up with changes and ideas and collaborate together to face challenges and embrace opportunities; and by providing program options for campuses so their students can utilize the skills and knowledge they've been learning on their own campuses in new context.
The theme for this issue of Reflection magazine is "endurance," which is a trait that Christian colleges will need to survive through difficult conditions. What strategies do you see as most essential in order for Christian colleges to successfully persevere and thrive? What unique advantages do you believe Christian colleges have in the current higher education marketplace?
One of Christian higher education's greatest strengths is its holistic approach to shaping and educating students. In looking at national reports on student engagement, graduating seniors from our schools have had the highest engagement with diverse views and critical thinking, have had the greatest engagement in serving their communities through their classes, and have had the highest quality of interaction and support with faculty, staff, and administrators on campus. As a result, our graduates are more likely to be in fields that may not maximize earnings but deliver social benefits, such as human services and education, and they repay their college loans at the highest rate in all of higher education. In other words, our graduates are committed to working for the common good and honoring their responsibilities and commitments. These are the kinds of thoughtful, engaged, faithful people the world desperately needs today.

"One of Christian higher education's greatest strengths is its holistic approach to shaping and educating students."

How do you see the future of Christian higher education in America unfolding over the next ten or twenty years?
The future for Christian higher education is bright. All of the challenges we've discussed have caused institutions to become creative and make needed changes so they can continue to thrive. These changes are led by brilliant, dedicated faculty, staff, and leadership, who are committed to the missions of their institutions and to training the next generation of Christian leaders. We can also go into the future in confidence knowing God is on our side. God is present whenever the Gospel is proclaimed, and we do that through the platform of education, preparing Christians for their calling in the world. ■