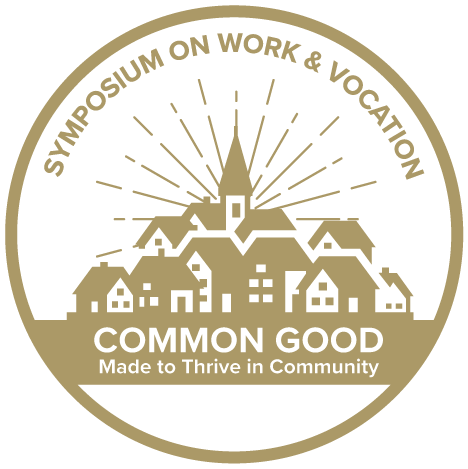 Montreat Symposium on Work & Vocation
Workshop # 3
Tuesday, November 9, 1:00 p.m.
Round Table Discussion | Vocation and Flourishing | Gaither 25
Round Table Discussion | Discerning a Vocational Path | Gaither 27
Round Table Discussion | Taking the Long View on Vocation | Belk 143
From Weapons of Mass Destruction to Humanitarian Aid
Adam Bricker, Executive Director, Carolina Cyber Center & Mike Malarkey, Cybersecurity Director, Bank of America
Belk 304
What do you want said about you at the end of your life? Mr. Bricker realized that, throughout his career, he almost had an "altruistic motive" until he came to understand that there is only one purpose to life; the rest of your accomplishments don't count on the only accounting ledger that matters.
Community Matters: An experiential session
Katherine Jeffery, CEO of KJ Consulting
Library 106 (Thrive Center)
Living out our calling in community means that we must understand how we show up in the world and how other people perceive us. This workshop invites you into a practical, hands-on experience where you will take a look at your interpersonal skills and how they influence the way you relate to the people around you and the path you choose to take.
Foundations of Multiplication
Mike Gatton, Piedmont Fellows Director
Library 105
What type of legacy will you leave? Take a look at the mindset and habits of influential Christian leaders who have lived lives of purpose and multiplied their impact.
Pathways for Any Major to Explore a Teaching Career
Susan Stigall, Education Department Chair, Mars Hill University
Belk 148
Montreat & Mars Hill University (MHU) have recently entered into a memorandum of understanding that will help Montreat students achieve a Master of Arts in Teaching. MHU representatives will help Montreat students explore both the field of education and the pursuit of an advanced degree in teaching.
Ensuring Competitive Advantage in your Cybersecurity Job Search
Michelle Pupoh, Director of the Academy, & Chris Wallace, Chief Technology Officer, The Carolina Cyber Center
Belk 306
How can you ensure you will be among the top candidates for the position of your choice in a growing, but competitive field? In this session, learn the Top 5 strategies to give yourself a competitive advantage in setting yourself up for a successful job search and landing your first job in cybersecurity.
The Role of Emotional Intelligence in Professional and Personal Fulfillment
Kevin Auman, Associate Professor of Music Business, Montreat College
Morgan 208
A substantial and growing body of research reveals a close link between Emotional Intelligence (EQ) and long-term success. EQ is a measurable skill. This workshop will present a framework for understanding EI, consider its moral dimensions and relationship to faithful Christian practice, and
include ways to assess and develop EI in order to increase professional and personal fulfillment.
So You're Thinking About Grad School
Lisa Toland, Professor of History, Montreat College
Morgan 110
Why should you consider grad school? How do you know when the right time is to go for a master's degree or even a PhD? How is graduate school different from undergraduate education? Is graduate school necessary for my dream job? All these questions and more will be addressed in this primer to begin the process of considering grad school.
So, You Want to be a Park Ranger?
Clay Hanna, Park Ranger, Grand Teton National Park & Liam Campbell, Park Ranger, Great Smokey Mountain National Park
Room 3 (McAlister Gym) 
Two National Park Rangers will describe their careers and paths to becoming a National Park Ranger and serving visitors from throughout the world.
From English Major to Video Game Developer
Jo King-Yost, Senior Production Engineer, Bungie
Belk 219
Alumus Jo King-Yost will share her winding 10-year journey from Montreat to the video game industry. In addition to answering questions about her personal story, she will bring some prompts for discussion to get students to think about how they can start actively pursuing their vocation while still in school. Jo has worked across the tech industry from Google, AT&T, and now video games.
Faithfulness in Sports and Athletics
Cindy Guthrie, Professor of Kinesiology, Penn State University
Belk 305
What does the Lord say about play, the building block of games, sport, and athletics through the scriptures? How can the athletic community at Montreat bring shalom to our crazy world of sports? How can we place these sports we love in their proper place in our lives? These areas as well as some of interest to you will be discussed in this seminar.
The Goods vs. The GOATs
Daniel Bennett, Vice President for Student Life & Dean of Students, Montreat College
Panelists:
Griffin McKesson, Howerton RD
Lyndsey Wall, Volleyball Alumn and Director of Residence Life
Morgan 107
Robert Horry vs. Lebron James, Will Smith vs. Justin Verlander, Antonio Salieri vs. Amadeus Mozart. What do these characters have in common? From sports, to music and the arts, to each of our individual athletics careers, being students in college and in life—we live in a broken world where things are not the way they're supposed to be and we must grapple with how to make sense of it all and where is value derived? Utilizing Tim Keller's book "Every Good Endeavor: Connecting Your Work to God's Work" as a framework, this session will use the text to explore relevant examples and Biblical principles for everyday application to whatever work God calls us to do.
Using Your Strengths
Beth Maslin, Director of Critical Thinking, Montreat College
McGowan 117/118
Our top five themes provide us with common language for communicating our unique contributions to our community, including the places we work and volunteer. During this workshop we will review the meaning of your top talent themes and explore ways to tap into your talent set to connect with internships, jobs, and volunteer opportunities. Participants must have access to their strengthsquest.com login and/or their signature themes reports.
Practicing Helplessness in Christian Community
Rev. Brian Combs, founder of the Haywood Street Congregation, an urban ministry serving the homeless corridor of Asheville
Gaither Fellowship Hall
In a world of faith-based direct service where mobilized compassion is always preferred over empathetic presence, is the Church one of the last institutions willing to sit with suffering without an agenda to fix?