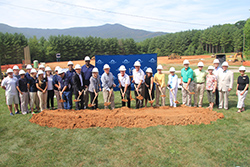 Montreat College held a groundbreaking ceremony this morning for the new athletic complex being constructed on its Black Mountain campus. The event was attended by college administration and staff, officials from the towns of Black Mountain and Montreat, representatives from Sports Field Engineering and Civil Design Concepts, as well as friends from the local community.
"This complex is a tangible sign of the momentum that Montreat College has been experiencing over the past year," said Montreat College President Paul Maurer.
Two donors provided full funding for the $2 million project. The anonymous donor who gave the record-breaking $6 million gift to Montreat College in March of 2014 generously provided an additional $1.25 million for the athletic complex. Alumnus Rusty Pulliam, class of 1978, committed an additional $750,000, one of the largest alumni gifts in the history of the college. Pulliam was inducted into the Montreat College Athletic Hall of Fame in 2002 for his contribution to his community and achievements as a baseball player while a student at Montreat. He is the president and CEO of Pulliam Properties in Asheville.
Pulliam was on-hand for the ceremony, and spoke of his belief in Montreat College and the valuable role that athletics can play in a college education. Montreat College Athletic Director Jose Larios provided the details about the new athletic complex itself, which will include an 8-lane, 400-meter running track, 115-yard by 75-yard athletic field (which will retain the name Howard Fisher Memorial Field), a new softball field (which will retain the name Roxy Hines Field), two new gravel parking lots, and an ADA-compliant restroom building. Additional speakers at the ceremony included Black Mountain Mayor Mike Sobol, Montreat Women's Soccer Coach Courtney Nash, and Montreat Track & Field Coach Jason Lewkowicz.
The athletic complex is scheduled for completion in September 2015.