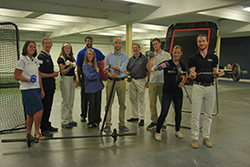 Montreat College announced a major renovation of the McAlister Fitness Center today. The renovated fitness center, located on the lower floor of the McAlister Gymnasium, will feature expanded floor space, a revamped design, and all new equipment. It will provide a significant upgrade in fitness facilities for both athletic team training and student, staff, faculty, and community use.
"The renovated McAlister Fitness Center will be a valuable resource for the entire Montreat College community," said Montreat College President Paul J. Maurer. "And coupled with this summer's other ongoing campus improvement projects—the athletic complex on the Black Mountain campus, the black box theatre, and the renovated restrooms in Gaither Hall—it is further evidence of the upward trajectory the college has been on since early 2014."
The McAlister Fitness Center renovation is fully funded by gifts from a number of generous individuals and foundations, as well as proceeds from the annual Bob Watt Memorial Golf Tournament.
The expanded fitness center will feature new flooring, mirrors, and new windows overlooking Flat Creek. It will also feature all-new fitness equipment, including six treadmills, two elliptical machines, five stationary bikes, two adaptive motion trainers, ten new strength stations, all-new free weights, an enlarged batting cage, plus additional accessories.
The fitness center renovation is scheduled for completion in August 2015.