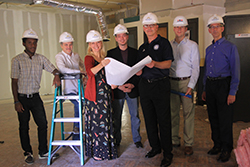 Montreat College announced this week that a new "black box" theatre is under contruction on the college's Montreat campus. The Lou Gideon Theatre is set to open this fall on the first floor of the Belk Student Center. The theatre will feature state-of-the-art equipment, LED lighting, and sound, and will create a space for theatre students to both rehearse and perform. Construction on the theatre has already begun, and a dedication is scheduled for November 11, 2015.
"This theatre is part of an ongoing effort to build an outstanding theatre program at Montreat College," said Professor Callan White-Hinman, head of the Montreat College Theatre Program—which just became a full-fledged major this past year. "It will create a space for theatre students to explore their talents and show prospective students the serious commitment that Montreat College has to the arts. It will also honor our dear friend Lou's memory as a creator, writer, musician, artist, and friend."
The theatre will be named in honor of Lou Gideon, a great supporter of the Montreat College Theatre Program and a very dear friend to Program Director Callan White-Hinman. Ms. Gideon passed away in 2014, and at her memorial service at the college's Manor House, anonymous donors emerged to fund a black box theatre on the Montreat campus dedicated in her memory.