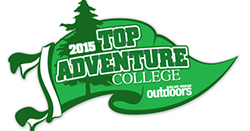 Blue Ridge Outdoors Magazine announced the results of its fourth annual Top Adventure College Tournament this past week. Montreat College advanced to the tournament finals before finally being ousted by Western Carolina University.
32 colleges and universities from across the Southeast and Mid-Atlantic were selected to compete according to their outdoor clubs and curricula, their commitment to outdoor and environmental initiatives, the quality of their outdoor athletes and programs, and their opportunities for adventure. The schools were then placed in a March Madness-style bracket, where they competed in head-to-head matchups, with the winner advancing according to reader votes.
Montreat College defeated Washington & Lee, Warren Wilson, Maryville, and Sewanee in head-to-head matchups to set up its finals showdown against Western Carolina. Montreat's ability to garner more votes than schools many times its size points to the reputation of its outdoor programs, the dedication of its outdoor faculty and students, and the enthusiasm of its alumni and community about Montreat's "adventure" credentials.
"We are grateful to all those who voted for us," said Montreat College Outdoor Education Department Chair Dr. Brad Daniel. "This was the first year that Montreat College was included in the contest, and it was a lot of fun. For a small school, our Outdoor Education program is nationally known and respected. In the last three years alone, the program has won two major awards. We were named 'Organization of the Year' in 2013 by the Wilderness Education Association (WEA). This year, we were one of the first two programs in the U.S. to be accredited with the new 'Program of Distinction' designation by the North American Association for Environmental Education (NAAEE)."