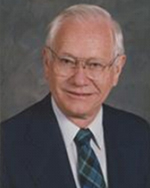 Former Montreat College President Dr. Silas M. "Si" Vaughn died peacefully on May 9, 2015, at the age of 89. As Montreat College president, Vaughn is most known for the separation of the management of the Mountain Retreat Association and presidency of the college, and leading the college during its progression to a fully accredited four-year baccalaureate institution.
"Si Vaughn's fingerprints are all over Montreat College," said Montreat College President Paul J. Maurer. "From the capital improvements he spearheaded to our existence as a four-year baccalaureate institution, his dedication to Montreat College remains part of the fabric of the institution. There is no past president who did more to create the Montreat College of today than Si Vaughn, and I am privileged to stand on his shoulders."
Vaughn served as Montreat College president from 1972-1991. Capital improvements during that time included renovating McLeod and Howerton Halls, construction of Newell Athletic Field, Belk Campus Center, and a new Prayer Porch. The Discovery Wilderness Program was implemented and achieved national recognition. In 1986, the college once again became a baccalaureate institution, with the first Bachelor of Arts degrees conferred in May 1988. Full Southern Association of Colleges and Schools (SACS) accreditation baccalaureate institution was achieved, and Montreat became a member of the Council of Christian Colleges & Universities (CCCU) in 1988.
In addition to these more tangible achievements, Vaughn is widely remembered for his dedication to the college and its students, faculty, and staff, which continued long after his tenure as president had ended.
"Si Vaughn was not only president, but a dear friend of Montreat College who worked tirelessly on behalf of this institution," said Montreat College Board of Trustees Chairman William Haynes. "He will be deeply missed and we are praying for his family. We thank Si for his gifts used on Montreat's behalf and for the glory of Christ."
Vaughn was born in Collinsville, Texas, on March 20, 1926. He was educated at Collinsville Texas Public School, Austin College, North Texas State University, and the University of Kentucky. He and his wife Catherine were married nearly 62 years. Prior to coming to Montreat College, Vaughn already had an impressive background in higher education. He was the former vice chancellor of business affairs for the University of North Carolina in Charlotte. He served as Chairman of the North Carolina Advisory Committee on Higher Education Facilities. And he served as a consultant for Gardner-Webb College, Kittrell College, Johnson C. Smith University, St. Augustine's College, the Academy on Education Development (Ford Foundation), and the North Carolina State Board of Higher Education. He was also a field representative for the U.S. Dept. of Health, Education, and Welfare in the states of Pennsylvania and West Virginia.
Vaughn was elected to the presidency of Montreat College by the Board of Trustees on May 5, 1972, and assumed his duties as the fourth president of the college on June 1 of that year.
A memorial service will be held at Gaither Chapel in Montreat, NC, on Saturday, June 20, at 2:30 p.m. Expressions of sympathy may be sent to Catherine Vaughn at 63 Parker Ridge Lane, Unit 315, Blue Hill, ME 04614. In lieu of flowers, the family requests that memorial gifts be made to the Vaughn Scholarship Fund online or by mail to Montreat College, P.O. Box 1267, Montreat, NC 28711; or to EARTH University in Costa Rica, which accepts donations in the U.S. at EARTH University Foundation, 8 Piedmont Center, Suite 520, 3525 Piedmont Road NE, Atlanta, GA 30305 (404-995-1230); or to the charity of one's choice.