Written by Tyler Lee
After successfully completing the All-In initiative, Montreat has announced its next tangible step forward. On Wednesday, April 8 at 9:00 p.m., a ceremony was held in Gaither Chapel revealing the coming construction of the Black Mountain Athletic Complex on the college's Black Mountain campus.
This facility is a phenomenal blessing for the college. The $2 million complex will create a much-needed home for the track and field, baseball, softball, soccer, and lacrosse teams. The facility will be constructed by SportsField Engineering and will include an 8-lane running track, a state-of-the-art "Replicated Grass" turf athletic field, a softball field, two parking lots, and an ADA compliant restroom building.
"We will have one of the finest facilities in the country," athletic director Jose Larios stated at the announcement event.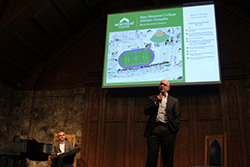 The field is being funded by two main sources. The anonymous donor who previously donated $6 million to the college has donated another $1.25 million for the project. In addition, Montreat alumnus and Montreat College Athletic Hall of Fame member Rusty Pulliam has committed an additional $750,000. Such generous donations have pushed this project forward to where plans have officially been approved.
This is groundbreaking for Montreat, as it will provide a field for many of the sports teams who do not currently have a home. "Two out of my five years here we have not been able to play soccer at our own field," women's soccer coach Courtney Nash said at the ceremony. Montreat will soon be able to host home games and tournaments that will have a significant economic impact on the community. Both the athletic program and Montreat College will be revolutionized.
"This project is evidence of God's grace," said President Maurer during the ceremony. "[The complex] will allow the college to recruit a full roster for the track and field program, as well as fully subscribe women's lacrosse, which is completing its first year at the college. The track and field project is a tangible sign of the forward momentum the college has been experiencing over the past year. I couldn't be more excited for the future of Montreat College."
This is Montreat's next big step forward. Change is an amazing thing, but it can only truly be ushered in by action. This is Montreat College's next palpable action. The projected completion date for the project is Fall 2015. There is much work to be done, but by next semester, Montreat athletics will be drastically transformed.