Written by Tyler Lee
In a world where everything is right at our fingertips, we constantly have things warring for our attention. Remaining dedicated and fully committed to anything has become a significant challenge. Yet, in the end, nothing is truly satisfying unless there is a purpose behind it, unless there is a reason to be dedicated. This is especially true with athletics, with those who fully commit to their sport often finding that they are able to catch a glimpse of the ultimate meaning behind both their lives and the sport itself.
Winston Rheinbolt, a senior International Business major at Montreat College, has found that meaning. His dedication has led him to great success both as a student and as a competitor for the Men's Cross Country and Track & Field teams. Lately, Winston has seen his hard work and dedication pay off again and again, most recently with his competing in the NAIA National Cross Country Championships in Lawrence, Kansas this past November.
Going into the event, Winston saw it as an opportunity to stretch himself against what he described as fierce competition. "Getting to race against the fastest collegiate athletes in the NAIA, you are nothing but pushed to your limits in order to keep up with them," he said.
Winston has had to push his limits time after time in his career, especially with challenging drawbacks such as IT band issues in both knees, patellar tendinitis in his right knee, and plantar fasciitis in his right foot. Unfortunate injuries such as these have constantly plagued him, and have often kept him from competing. However, in the midst of the challenging road he has faced, he has managed to remain steadfast and endure.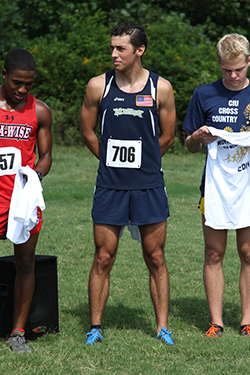 Rheinbolt first learned the importance of endurance and dedication through the military. "[The military] made me determined and disciplined," he said. "I embraced the indoctrination; the military helped me focus." The military helped Winston push past what he called the "flimsy affairs" which had occupied him prior to that.
Moving past these "flimsy affairs" allowed Winston to rediscover the path that Matthew 7:14 describes as "narrow" and "[leading] to life." Through the military and the inspiration of mentors like Howard Fischer and Montreat College Athletic Director Jose Larios, Winston has been able to find this path, and through this he has gotten to compete and travel throughout the U.S. Over the past few years, Winston has competed in marathons in Cincinnati, Nashville, and Albany, all of which he has placed well at. And he also got the opportunity to run at the Boston Marathon, which ended up being his fastest time.
In his fourth run in the national tournament, Winston placed 241st out of 320 total competitors. Enduring what he considered a challenging and sloping course, Winston finished with an impressive time of 27:40 on the 8k course. In addition to this, Winston and senior Women's Cross Country runner, Brooke Alexander were recently named to the NAIA Scholar Athlete Team, emphasizing the kind of dedication Montreat cultivates in both academics and athletics.
Typically, a college student's schedule involves going to class, working part-time, and (if they have time) socializing. However, some such as Winston Rheinbolt diverge from the typical model of a college student and aspire for more. Winston has pushed his limits more and more throughout his college career and, as a result, he has earned countless opportunities to compete against some of the best runners in the country.
Winston's experience shows that Montreat strives to recruit athletes that are dedicated to both their schoolwork and their sport, giving them opportunities to pursue their dreams while being inspired to push beyond the typical college experience. Rather than being passive, students are instead encouraged to maintain a bold, Christ-like dedication in everything they do. And through the discipline cultivated at Montreat and in the military, Winston Rheinbolt's dreams have been transformed.